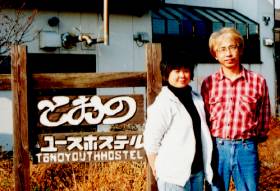 Michiko Konkawa • Shigeru Konkawa
Originally born and bred in the city, we moved to the countryside and opened Tono Youth hostel out of our love for nature.

We'd like to make comfortable inn, where foregin travelers can feel at home, and can feel the goodness of Japanese countryside.

Though we' re not good at speaking English, unfortunately, the heart which welcomes travelers is common in all over the world.